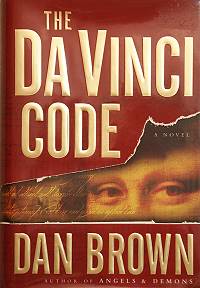 Author : Dan Brown
Publisher : Doubleday Group (United States),  Bantam Books(United Kingdom)
Pages : 454 (U.S. hardback), 359 (U.K. hardback), 604 (U.K. paperback)
ISBN : 0-385-50420-9
This novel interested me cuz it is a controversial novel, and I'm always interested in what others try to avoid (I guess it's a common human nature!) Though I read this, I wasn't sure of understanding it completely, cuz I was still 14 years old when I read it and this was the first novel I have read apart from other children's novels such as Famous Five and Secret Seven!!
I did not have the book and hence had to borrow from my friend.
Then it took more than two weeks to complete this book. I've really enjoyed reading this book with 'Princess' Sophie being my fav character, because of her stupidity…juz jokin……….but I recommend you to juz read it!!!